Hi! I'm Lajuana aka scrapladyandmore and I discovered digital scrapping 5 years ago. Although I have many hobbies I enjoy, digital scrapping has moved right to the top of my favorites list! I'm privileged to be a member of Retro Designs' Creative Team and love creating with her wonderful kits. Retro Design kits are perfect for my many family heritage photos, but I also have scrapped some layouts I love of my very modern grandchildren. Thank you for taking a look at my creations. It is my hope that you will be inspired to make your own wonderful creations after seeing the many possibilities of these magnificent kits by Retro Designs!
Click on each layout to get a larger view...click back on your browser to return here! To leave Comments, please scroll down to the bottom of the page!
Fall is in the Air!
Came across this page yesterday and it brought back such fun memories of the day we played in the leaves in the back yard three years ago. Sweet Avery will soon be 8 years old! Love that I have so many memories scrapped to pass on to her some day!
This memory was created using Helen's wonderful kit, Vintage Patina, which can be found in her store HERE!
Pages with "Doggy Treats"
The most recent "doggy" in my life is the Fisher Price Lil Snoopy toy that was part of our present for Brody's 1st Birthday so I couldn't resist using Helen's Doggy Treats QP Freebie to scrap this memory. This toy brough
t back memories of the toy I had as a child. Was a little disappointed when I found this little guy that he didn't look like mine, but he's a cute modern version and he barks! Brody just started walking this past week so it will be a while before he's pulling it around but he did pull it while crawling once. And it is so cute, when he is watching someone else pull the doggy, his feet go back and forth just like the doggy's feet.
JOURNALING: Your "Lil Snoopy" looks different than Nana & Papa's but we hope you love playing with him as much as we did when we were children!
Hard to believe that it has already been a year since this little guy was born and spent a month in the NICU. Brody has come a long way since then. He was recently released from physical therapy as he has reach levels at or above his age level in all skills. And, he no longer has to wear the helmet needed to reshape his head that was slightly flat due to weakness that caused him to sleep on the same side every night. Previews of
Doggy Treats and this awesome QP freebie can be found
here
. Doggy Treats is also in the
store
Pages with "Nature Notes"
Helen created this very special QP from Nature Notes. Just happened to have some photos of Miller with Mom and Dad and his big sister that I chose to put into this QP freebie. I recolored the photos so they would match Miller LO I made from when he was one-month old.
Check out Retro Designs Blog and you will find this freebie! And you will find Nature Notes HERE in Helen's Store!
I love the browns, tans, and touches of black and gray in Nature Notes and they are so perfect for Miller's one-month old pictures. Miller Zackry Brown was named Miller after Papa Miller (my DH) and Zackry after his dad, Zack Brown. Found a lullaby by Horace Smith that I thought was sweet and went along with the layout.
Evening is coming, and night is nigh;
Under the lattice the little birds cheep,
All will be sleeping by and by.
Sleep, little baby, sleep.




Visit Helen's Store where you will find previews of Nature Notes and LO samples. Visit Helen's Blog where you can find previews and you just might find a freebie, too!

Pages with "Jewelled Sea"

"Jewelled Sea" is one of my many favorite kits of Helen's. Previews of this kit actually made it here in the blog in July of 2011. Since then, the store has been opened and "Jewelled Sea" has been added to Helen's STORE as the featured kit of the month!

You will find an animation of several of the pages I have made using this kit with "non-seaside" photos in the store! I have some of those and a number of sea-themed pages shown here also....just scroll down until you see ocean waves, sandy beaches, and seashells!




As soon as I find the non-digital photos of a lighthouse and sailboats I have that I want to use, I'll be back with a few page made using "Jewelled Sea" and the "Painted Seashells Freebie" just posted by Helen. Check out this awesome freebie on the Home Page!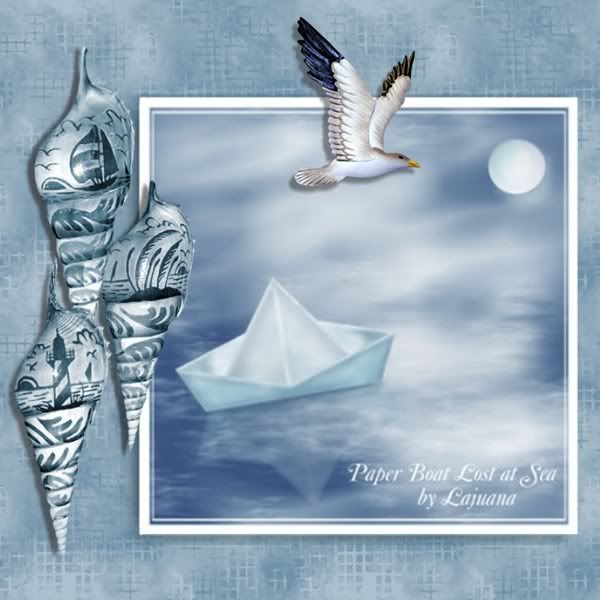 I did find this project I did for a 96-week workshop learning to use a design program called Photo Impact. The original design was a brighter blue and I recolored it to match these gorgeous shells. Loved how this turned out...looks almost like the moon is being reflected on the seashells.
LOs Using Nostalgic Scrapbook
Loved using this new kit to scrap a few of my Great-Aunt Mattie's studio photos. I have such mixed emotions on paper versus digital scrapping. I love digital, but all these heritage photos deserve to be in an album. Another project to add to the list. These will be placed into the album in the photo holders and still on the photo cards as these are as unique as the old photos. Journaling: It is going to take way more than one cup of coffee to get my grandfather's family pictures into an album. There are about 100 photos which include many of his mother's family photos.
You can find Nostalgic Scrapbook in Retro Designs Store
HERE!
Even though these interesting Texas Pioneer Girls are unidentified and known only as some of Com's kinfolks, this photo still deserves to be in an album for future generations of the Commadore M. Thomas family. The Thomas family album will be so thick that these may perhaps end up in a separate album. It's been about 5 years since I gone through all of the photos and have pulled a few from time to time to scrap, but someday I must get them placed in albums. Right now I think they look wonderful in the vintage scrapbook from Helen's Nostalgic Scrapbook.

Journaling: Many of the photos found in Granny Thomas' trunk belonged to Granddaddy's two sisters. Since Granny couldn't identify them, she referred to them as "Some of Com's Kinfolks". Someday they will find their way into an album by the same name!"
LOs Using Vintage Whimsy
I love this QP freebie made from Helen's Vintage Whimsy kit. I also love this photo of Reese...would love to know what her thoughts were at this moment. She and Dad were on a bike ride when they spotted this vacant lot full of bluebonnets. Luckily Dad had the camera along and took so many wonderful photos that it was hard to narrow it down to just one to use here.
Vintage Whimsy and it´s now available in Retro Designs Online
store
. And you´ll find more info about Vintage Whimsy and this QP freebie
HERE
.
Helen's new kit "Vintage Whimsy" was released just as my DD's sent pictures of my grandchildren in the lovely clusters of bluebonnets celebrating spring all over parts of Texas. The bluebonnets were to reward of all the recent rains.
LOs with Simply Serene
I knew when I first saw Helen's restoration of her mother's childhood photo that I had seen those eyes before. My first thought was what sad eyes. I quickly search through photos and came up with these two. Fortunately for me I know the story behind these somewhat sad looking eyes. Tonia was observing lots of activity outside the nursery viewing window during family time as many parents, grandparents and siblings were there to see the newborns. Moments before she was smiling and pointing to her new baby sister. Reese was helping mom by holding Miller's bottle while mom changed Miller's diaper. Moments before she was smiling at Papa telling her what a good girl she was for helping Mom. Seems that sometimes the camera captures a split second of deep thought that we may never know what comes to mind between the smiles. Retro Designs kit, "Simply Serene" used for this LO may give another insight...the camera captured a simply serene moment. Previews of "Simply Serene" and additional LO samples can be found at Retro Designs Online Store.
Some Layouts with "Flight of Fancy"
It was such a blessing to get to hold Brody this weekend after him having to spend his first month of life in NICU. These four photos were snapped as Brody was dosing off to sleep...his time to smile and peek out at you every once in a while. Maybe he is having sweet dreams or maybe it was Nana telling him just how cute he is! Journaling: Okay, I get it. I'm just too cute. And it does make me smile to hear how cute I am, but could I catch a few winks here before it is time to wake up and eat again!
Helen recently added Flight of Fancy to her
Retro Designs Online Store
and this is my most recent LOs using this wonderful kit. Love all the bling and how perfect to have a safety pin to use with this LO of Brody.
I am also posting a few of my other LOs using Flight of Fancy...a very versatile kit as you will see from the variety of LOs below.
This photo of Avery is one of my favorites. Her mom took it before church on Mother's Day a few years ago.
Look closely and you will see a double rainbow...this photo was taken from my front yard.
This Flight of Fancy QP was perfect for Jojo's photo...such a sweet smile!
A collection of my Granny's valentines she received as a child around 100 years ago.
Summer Past
I was working on Avery's LO with the Summer Past QP freebie and decided to make it a two page with one for Luke to match. Couldn't resist using the picture of Luke with the hay straw in his mouth. You can tell by the smile on Avery's face that she is one happy little Cowgirl. All the kids at the birthday party got to ride this horse, put their hand print on a white horse, and go on a hayride. It was such a fun party for everyone.
Here's Luke and Avery's pictures combined. I may play around with them a little more before adding them to a book to be printed. Love the deep rich colors and touches of gold on these pages.
I started with Helen's QP Freebie to go with her new kit Summer Past. I added the rectangle photo of Luke, the heart and swirl in the left corner and the brads below Luke's name and turned this QP into a "cowboy" page for Luke. I took these pictures this weekend a Avery birthday party. I'm thinking that bird has an eye on the piece of straw Luke is chewing on! Check out previews of this gorgeous new kit and see some sample LOs at
Retro Designs Online Store!
You can find this QP under
Kit Previews
on Retro Design's Blog.
Sweetness And Light
Brody was born 6 weeks early due to DD's life-threatening blood pressure. It's sad to not get to hold and cuddle a precious newborn. And LaChelle wasn't able to go see him for 2 days until her blood pressure got better. The next morning she got a quite look before Brody was moved to Children's Hospital and she couldn't see him until she was released 2 more days later. I told LaChelle Brody was just spending a little time in his own special cocoon until it was time for him to fly out into our arm. It was so appropriate when we walked into Children's Hospital and the lobby was full of butterflies hovering above. Brody is "spreading his wings" a little more each day. After 2 days at Children's he was changed from a high tech ventilator to a smaller one. And yesterday taken off the vent and is using just an oxygen tube in his nose. He still has a small hole in his lungs that is almost sealed. LaChelle is getting to go and stay as long as she wants with Brody but won't be able to hold him until they remove the chest tube that drains the air leaking from his lungs. I have come home and am resting up so I can go back once he is ready to leave his cocoon and fly! (Oh...he was 4 lbs. 6 ozs. at birth and 18 1/2 in. long! LaChelle is still having blood pressure issues and the cardiologist is running tests to determine what all is going on.)
Helen's beautiful and sparkling butterfly from her Sweetness And Light kit adds a special touch to this memory for Brody's Baby Album. This kit is available for purchase in Helen's new
STORE
!
I have been eager to use Helen's lovely QP freebie created from her new kit Sweetness And Light. This is my Dad, the baby on the left, with his older sister Lazelle and his twin sister Thelma. If you can read this names at the bottom, you will see his name is Elma. Although it rhymes with Thelma, it would not have been his first choice for a name. His sons are named Steve, Mike, and Greg...no confusion there! I love the painting and hardly ever walk past it without stopping and reflecting on my Dad and many wonderful and precious memories. I think this QP it is perfect the reflection I have had today on Dad's birthday! He and his sisters are celebrating today in heaven along with his parents and other siblings there with them. You will find the freebie
HERE
and the kit is available for purchase in Helen's new
STORE
!
A Christmas Carol
Papa Miller and Miller sharing a "magical" moment during Christmas 2011. Miller loves his Papa and shares something in common. They both have (had in Papa's case) red hair. Growing up DH's hair was a gorgeous dark auburn red and very thick. Time will tell if Miller's hair is like Papa's or if he has "carrot top" red. Either way, he will always be our precious little red-hair grandson. Love this Moon and cherub element which was the inspiration for this LO. "a Christmas Carol" is now available at Helen's New store
HERE!
Love how the photo blends into the background and your focus is on all the smiling faces and one little one that's not so happy at the moment. Although the tree is hidden behind everyone, these wonderful Christmas elements from Retro Designs new kit "A Christmas Carol" made a very festive page for this special memory. There's much more to see so take a look at Kit Previews here on the blog and you might even find a freebie or two! Great News! This kit is now available at Helen's New store
HERE!
Some Christmas Memories
using Nouveau Summer
No, you didn't read the heading wrong...a number of years ago as a Deco-Pages CT I chose Helen's Nouveau Summer Kit. Don't recall why I did Chirstmas LOs other than the gorgeous reds and greens. Helen didn't even recognize the kit at first as the Christmas theme surprised her. Several went to buy this kit to use with their Christmas photos. Good News...you too will be able to buy this wonderful kit very soon. Just in time for Christmas!
Watch
Helen's Blog
...she will let you know when this kit will be available for purchase.
Luke's "Two Front Teeth" layout from last Christmas! These LOs were made using Retro Designs Noel Nouveau Kit!
OMG...this wallpaper looks so similar to Helen's background paper "red lace retro" in her Golden Memories kit. I just had to scrap it. This picture shows the furnishings along the banister overlooking the stairway going down to the first floor. Loved the stain glass window and how awesome is that lamp hang nearby.
Funerals are a part of our life and though sad, they are an occasion to take photos of family members we don't get to see very often. I was burning a photo CD for a cousin who didn't have her camera with her and came across these photos which were perfect for Helen's kit "Golden Memories"!
Second, this photo of Luke and Avery with the two older brothers of Clementine and a sister of Hannah was taken in a sitting are at the bed and breakfast where the family gathering was held. Such an elegant room...thanks goodness for the TV which was a lifesaver keeping the room's elegant touches "safe" from these little cousins!
"Luke chose fanatic, someone who is very and sometimes overly enthusiatic about a belief, cause or interest. He chose to be a Texas Rangers fanatic. The whole school gave a big cheer when he came up to say his word." Of course, the Rangers were playing in the World Series that night!
These awesome pumpkins were downloads from the Texas Ranger website which provided a stencil to be used to carve your own Ranger pumpkin! Can you tell who Luke's favorite Ranger is? He got to see them play last summer.
Pages with Pretty Shabby
Searching through a file titled heritage LOs under Retro Designs, I found the following LOs all of which have a great number of papers and elements from Pretty Shabby but also have a few items from some of Helen's other kits. Some day when I have more time, I must go on a scavenger hunt and find and label these extra items and kits. Does make it clear that Helen's kit all work well together.
Found a record of my Grandparents marriage in the church records at the Church's 100 Anniversary Celebration!
How fun to find this LO once again of Granny as a baby sitting in the "Summer Meadow" a paper from Helen's Nouveau Summer kit. Scroll down and you will see this baby's great-great granddaughter rolling down a hill in the same meadow!
Just downloaded this awesome Pretty Shabby QP freebie from Helen. Somehow I missed this freebie from the DP days and I so love it. Have so many photos of Miller that I would like to scrap and thought this QP was perfect to show Miller with his mom. This picture of Miller could almost be Papa Miller as a baby. Such a family likeness right down to the touch of auburn hair.
Being a "novice ballet Nana" I didn't know about the flowers for the ballerinas following the recital. I had already started making a "candy bouquet" to give to Avery following the recital when Jennifer gave me the heads up on the tradition. It worked great, however it was so hot that even though I kept the bouquet in a cooler with ice packs, it started melting by the time we got these pictures made! If you look close, you can see a big candy ladybug on a large candy leaf and 2 small ladybugs on the sunflowers. I didn't think to ask what Avery costume looked like, so my candy ballerina with a black tutu and red tights didn't match her perfectly, but it was close. Seeing all these pictures again for the first time since June, I think there's no doubt, Avery had a very special first ballet recital!
OK...could see real quick when I joined these two I will be making some changes should I ever print these together. Will have to decide if I would enlarge the family group photo on the left or reduce the photos on the right. I made the pic with bouquet large so it would be seen better. I can cut some off the top of that photo and adjust every thing on both page to balance them out better. Also will have to make a choice between the backgrounds. I used a blending technique to bring the gold out on the right side page. Rather redo now, I think I will just study them and make changes later. Besides, Luke and Avery will be here for a few days, so I won't be scrapping for a while! Still have some excess ballerina candy on hand and Luke has started football...can see us making football candy mints while they are here!
Definitely have plans for a 2-page spread of each of the first two LOs below, but I couldn't resist playing with the "Summer Meadow" background paper in this kit. We took several pictures of our little ballerina in the park in the city. It was fun putting Lady Bug Avery in the meadow with all the dragonflies and butterflies.
We were high in the balcony, and Avery looked about the size of a Lady Bug...thank goodness for tele-lenses! Beeatrice is a very cute story and so many adorable little insects entered the stage (the backyard) from behind that tree. For Avery's part of the program, they flooded the stage with red lights as you can see by the background of the stage where I blended her closeup photo taken in the dressing room once stage makeup and glitter had be applied! I was extracting Avery but ended up leaving her with the stage showing. Pretty sure there will be some pages with her extracted.
After the Ballet Recital we went to a nearby park to take some pictures of our little Lady Bug Ballerina. Family and friends present their ballerinas flowers following the recital and these gorgeous roses are from Freddie and Luke...two of her biggest fans! They both had to admit that though it didn't compare to a drag racing event, the ballet recital was actually fun to watch.
Nouveau Summer provided just what I needed for the first very elegant LO and then for this fun photo of Avery with her roses and family.
Pages with "Time Began In A Garden"