I´ve spent the weekend getting my garden/patio deco out of its winter hibernation. Some of it, like the frog with his motion sensor, spend all year out of doors. He´s quite a useful little fellow. He croaks loudly when cats approach intending to scratch up my flower beds and sends them on their way. Appropriately, if unwittingly, he also collects slugs which take cover under him...at least until I find them. Others, like the hanging verbena, are replaced every summer and some, like the cockerel, just get rustier and more disreputable as the years go by. Having them distributed about the garden reassures me that summer, if not exactly here already, is at least on its way.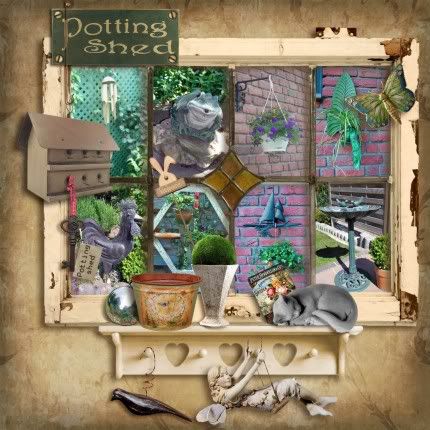 I´ve used one of the freebie QPs from Time Began In A Garden to display some of my garden deco. I think it´s very versatile as it can either be used as a potting shed window with a view of a garden or any rural scene or as a frame for a group of 8 related photos. If you´d like it yourself, you´ll find it
HERE
alongside previews of the kit and the preview of a completely new floral freebie which will be coming soon.