It sounds like something Dora would do but I´ve been doing it recently with some of my old photos and in many cases getting them up to scratch is definitely worthwhile. Take this one for example:
Scanned at 1200 dpi and seen close up it looked as if the family cat had sharpened its claws on it. Getting the scratches OFF was more to the point! If you´ve never tried to restore a photo you should give it a go. It can take a while but it´s easier than you´d think. All you need is time and patience and Photoshop although other software can also do the trick. In this case I used only the Spot Healing Brush Tool and the Clone Stamp Tool and this - eventually - was the result:
And if you think that looked daunting, how about this: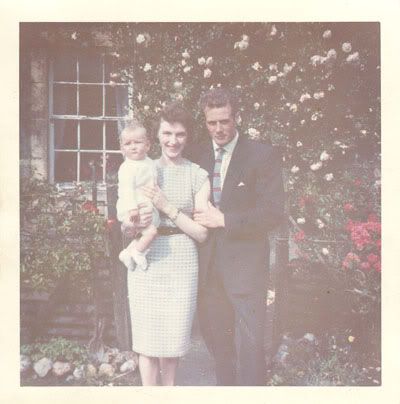 At first glance you might think it would take all day...but you´d be wrong. It took just one click on Auto Levels to restore the colour and after that I used the same 2 tools mentioned above to recolour some stray pixels here and there which resulted in this:
A lot of work? Maybe. But for scrappers there can be no better way to spend a cold dreary winter afternoon when afterwards you have the satisfaction of having restored a family treasure to something you can be proud to add to your heritage scrapbook.